Download Your Workshops Here!
We're so happy you decided to take advantage of our offer! Download these workshops by right-clicking on the images below and choosing "Save Target As…".
While you're here, we'd love for you to take a look at our other resources. We have:
Raising Real Men – a book for parents of boys of all ages
My Beloved and My Friend – a book to help you make your marriage even better
Boyhood Boot Camp – an online class for parents of younger boys to help you raise godly sons — and enjoy it!
Hero Tales and Pollyanna – character-building audiobooks for kids
Fun, Character-Building Toys, too.
.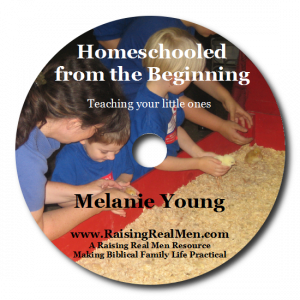 Homeschooled from the Beginning
A Favorite for Parents of Preschoolers. You've made the decision–your child will be homeschooled from Day One. Good for you! But should you start at a young age? Is it wise to even try? How do you know when to get started and what to do first? Melanie Young has raised precocious readers and late bloomers, but every one of them has benefited from being homeschooled from the beginning. This session can give you a new perspective on how to relax and introduce your little ones to the joy of learning in a gentle and realistic way.
.
.
Sometimes homeschooling feels like one of those plate-spinning acts and you wonder how in the world you are going to meet everyone's needs. The baby needs to be changed, the toddler is playing in the toilet, your high schooler is impatiently waiting for you to help with his biology experiment, and two other children say, "I can't do anything else without you, Mom." Melanie Young, mother of eight (ages 19 to infant), shares encouragement and ideas for how to keep all of those plates spinning at once without your life spinning out of control. Learn how to raise independent learners, how to keep the household moving, and how to make sure the little ones get enough attention.