Travel …
Would You Like to Hear Us Speak FREE?
In just the past year, we've spoken to churches, support groups, conventions and retreats from Maine to California, Arizona to Ontario, Sacramento to Cincinnati, Columbia S.C. to Columbia, Missouri! Would you like to be on the list?
States We Plan To Visit Soon
IL – IN – KY – MN – MO – NC – OH – SC – TN – VA – WV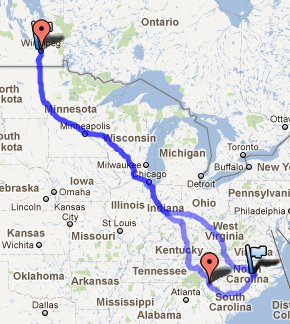 MARCH 2012
March 15-17
"Teach Them Diligently" Conference
Spartanburg, S.C.
March 20
Local Group Event (TBA)
Toledo, Ohio
March 23-24
Manitoba Association of Christian Home Schools
Winnipeg, Manitoba
In March 2012 we'll be taking a 3500-mile trip to Canada and back, and our route is flexible — if you're in the upper Midwest, we'd love to stop and speak with interested groups! Email us at info (at) RaisingRealMen (dot) com and let's see what we can work out.
MAY 2012
May 10-12
Michigan Home Education Convention
Lansing, Michigan
JUNE 2012
June 7-9
Home Educators Association of Virginia
Richmond, Virginia
June 21-23
Christian Home Educators of Ohio
Akron, Ohio
PLACES WE'VE BEEN RECENTLY
September 16 – Barboursville, Virginia
September 17 – Elizabethtown, Kentucky
September 18-21 – National Alliance of Christian Home Education Leadership, Roach, Missouri
September 21-24 – HSLDA National Leaders' Conference, Branson, Missouri
September 23 – Springfield, Missouri
November 17 – Benhaven, N.C.