Welcome, Facebook Friends!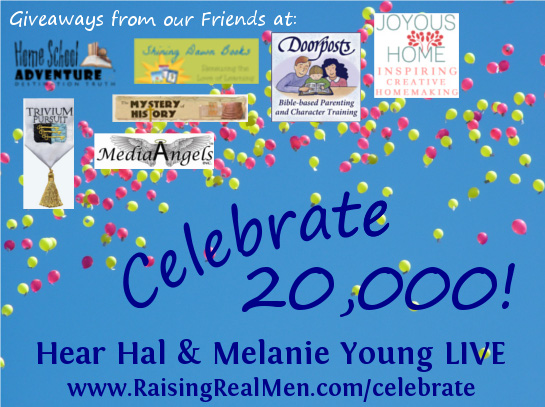 We did it! Working together, you've helped us bring the message of parenting for Biblical manhood to 20,000 people on Facebook! We are so grateful for your shares, recommendations, likes and comments that helped us spread the word!
To celebrate, we'd like to invite you to attend our MOST POPULAR workshop LIVE and for FREE! Now, we can't afford to bring you all here to us – or for us to travel all over the world to you, so we're going to meet with you by webinar! And several of our fellow publishers will be joining us to sponsor FREEBIES and GIVEAWAYS!
Although it's too late to hear us live, you can still download this workshop and enter the giveaways all this week!
Ballistic Parenting: Surviving and Appreciating Boys
In spite of what the culture is telling us, boys and girls are different. Have you ever had a war break out in the middle of history, or had a single math lesson take three hours? Then you're probably raising boys! If the world seems intent on gender-bending and forcing our sons into a feminized mold, Hal and Melanie, parents of six boys, explain the Biblical way out – and a better way to turn wild little dirt lovers into strong Christian men! Hear the workshop that started it all…
It's going to be great fun – lots of encouragement and practical advice for parents of boys, some GREAT giveaways, AND you can ask us questions LIVE. Can't wait!

 We'll send you a couple of emails to get you set up on our webinar platform and you will receive download instructions within a day (we have to process registrations by hand) !

Hal & Melanie

 Hal and Melanie Young, authors of the Christian Small Publishers Association 2011 Book of the Year, Raising Real Men, are parents of six real boys and two real girls.  They are sought after conference speakers who routinely draw standing room only crowds with their mix of uniquely entertaining cross-banter and practical, powerful Scriptural principles.