Welcome Youthful Homemaker Friends!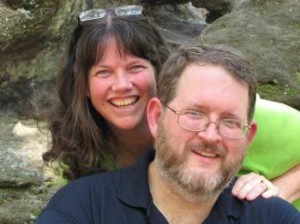 We have so enjoyed getting to know Christina and The Youthful Homemaker!
We're Hal & Melanie Young and we're the parents of six great sons and two sweet daughters — from adults down to a preschooler. We have a Christmas gift from our family to yours: a FREE download of A House NOT Divided: Building Unity, Not Rivalry. Just scroll to the bottom to get it.
But first, we have some exciting news to share! Our first book, Raising Real Men: Surviving, Teaching, and Appreciating Boys, has been used by the Lord to encourage thousands of people. It was the Christian Small Publishers 2011 Book of the Year and it is already in its fifth printing.
Over the past few years, people have asked us again and again, "When will you have another book???"
When Hal was told in 2010 that he might only have a few months to live since his cancer was so advanced, we were thankful we'd written a book that would let our sons know what their dad believed it took to make a man. We looked at each other and said, "So, what else do our children need? What do the people of God need to hear?" We both immediately thought, "Marriage!" and started writing. It's four years later and Hal is cancer-free. Finally we've finished the book and it's now available for pre-order!!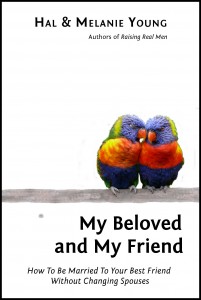 Announcing!!
My Beloved and My Friend:
How to Be Married to Your Best Friend Without Changing Spouses
Is it possible for you to love each other more every year?
Can your mate become your best friend?
Can a struggling marriage be saved?
Can a good marriage get even better?
Yes!
From the authors of the award-winning Raising Real Men.
Praise for Raising Real Men
"This is a book that every family should have…" – J. Michael Smith, Esq, President, HSLDA
"Just what the doctor ordered…" – Parenting columnist John Rosemond, author of Parenting by the Book
"Raising Real Men is long overdue… this book is a breath of fresh air." – Dr. Tedd Tripp, Author, Shepherding a Child's Heart
Pre-Order Now for Christmas Delivery! Only $15

This is just one of the many family-friendly gifts available in our Merry Christmas Shop. Head over there to check out our audiobooks, architectural blocks, wooden swords, and other great, character-building gifts! Besides, we're having a huge sale this weekend! Click here to find out about it.
While you're here, sign up for our encouraging, family-building newsletter to get our most popular workshop download free, too: Ballistic Parenting: Surviving & Enjoying Boys

If you include your address, our friends at J.M. Cremps Adventure Store, who sponsors our newsletter, will send you a catalog and coupon!  Email Marketing You Can Trust
But, don't forget your Free Gift!
Click here to download A House NOT Divided: Building Unity, Not Rivalry, full of practical ideas to build unity in your family, especially during the holidays! CD $7, mp3 Download $4, FREE for you!