Made By Me
Temporarily Out of Stock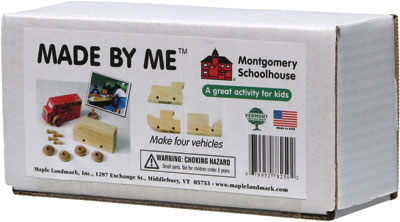 Good toys allow children to practice doing real things and to stretch the skills and talents God has given them. This new kit is a wonderful toy for little boys who want to build and create!
Made by Me contains undecorated pine bodies for a truck, train, tractor, and tugboat along with hardwood axles and wheels for each. Instructions for assembly are enclosed. You'll need: hammer, glue, and whatever you want to use to decorate with (crayons, stickers, or paint).
This is great fun!
Made By Me, Box Set of 4, $18 $16
Warning: Not for Children Under 3, Choking Hazard Contains Small Parts
Please add shipping below. I apologize for the clunkiness, we are working on an updated website, but it isn't ready for roll out!