Raising Real Men AudioBook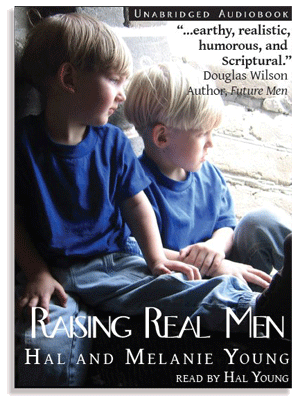 What About Dad?
So many moms told us their husbands just didn't have time to read, but would love an audiobook to listen to on the way to work, we had to make one. $25
We didn't expect moms and dads arguing at our table about which to buy! So we came up with the Mom & Dad special: Get both and get $5 off! Everyone's happy! And they're both on the same page! $35!
Raising Real Men
Surviving, Teaching and Appreciating Boys
See who's endorsed Raising Real Men. Tedd Tripp, Phil Downer, John Rosemond, Chris Klicka and more!
Read a chapter for yourself. Read more about the book here.
Get free bonuses with every purchase:

The Swamp Robber, the first of the Sugar Creek Gang audiobooks. Your boys will love it!
Our Exclusive 42 page Raising Real Men Study Guide.
Free Shipping
When you add an item, it appears in the Shopping Cart in the left sidebar. Click there to check out when you are ready. Thank you for your business!