Real Swiss Army Knives are a Rite of Passage
Victorinox
The Original Swiss Army Knife
A pocket knife is a boy's first "man's tool" and we make a big deal of it in our family. When our sons reach an age old enough to handle a knife responsibly, we require them to memorize the knife rules to demonstrate they understand the importance of using this tool correctly and safely.
In 1897, the Victorinox Company, supplier of knives to the Swiss Army, invented the multi-tool pocketknife we know as the Swiss Army knife. You can give your son a manly tool and a piece of history, too–the knife that has meant young manhood for over 100 years!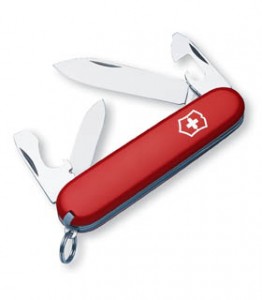 The Recruit contains:
Large Blade
Small Blade
Can Opener with Small Screwdriver (Also for Phillips Screws)
Bottle Opener with Large Screwdriver
Wire Stripper
Key Ring
Tweezers
Toothpick
Size: 3-1/4 inches
In the traditional red with the Swiss cross and shield emblem
Retail Price – $19.50 –
Our Price – $15!

Every knife comes with a copy of our Knife Rules for your son to memorize and prove he knows how to use a knife safely!
And if you'd like a different knife, a smaller size which goes well on a key ring, here's The Classic SD: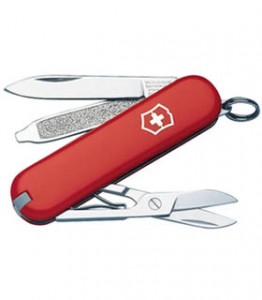 The Classic SD includes:
Small blade
Scissors
Nail file with screwdriver tip
Toothpick
Tweezers
Key ring
Size: 2-1/4 inches
Retail Price – $18.00 –
Our Price – $13.00

Shipping: You will need to add shipping below based on how much you purchase. I apologize for the clunkiness, but until exams are over for our IT department (who's in his senior year of college), we'll have to live with it. 🙂  If you forget, I'll just send you a PayPal invoice, but we can't ship until that's cleared. Thank you for understanding!