Valentine's Day Freebie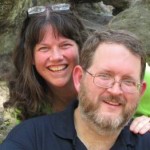 Welcome! We'd like to offer you our NEWEST workshop as a free gift to
celebrate Valentine's Day! This session, first presented just Saturday,  focuses on maintaining the romantic side of our relationship even while life is overwhelming.
We hope it'll help you find time for romance in the hectic distraction of every day life.
Plus, we have a great Valentine's Day gift idea for you — a $72 value for $35!
Your friends,
Hal & Melanie
Romance for the Exhausted, mp3 Download
In the flurry of work, church, homemaking, parenting, and even sometimes homeschooling, romance and physical affection can sometimes seem like unattainable dreams. How can you find the energy for romance? Revive your marriage and enjoy your relationship more every year!
Just sign up for our encouraging newsletter to download this great workshop FREE immediately!