Serendipitous Speaking Opportunities
What's serendipitous? It means finding a pleasant surprise along the way. We think that's a perfect way to describe something we love to do…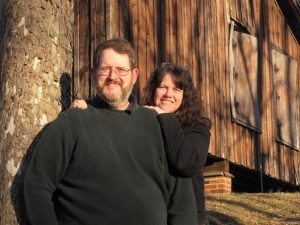 We love to talk about raising boys, building a great marriage, and homeschooling and sometimes we find ourselves available to stop and speak when we're traveling through an area anyway. Want to meet us and have a chance to talk? It's easy!
You may be wondering, "How much does it cost??? I've heard it's expensive having speakers!"
That's the great news! Since we're traveling through anyway, there are no travel expenses! So, small groups that could never otherwise afford to have us come, can easily do so if we're passing through!
Do I need a big group or a big city to draw from?
No! Folks that we've done this with have found it easy and fun and had a good turnout – even in small towns and small groups!
What do I need?
Not much! A location like a church or community building or even a roomy house and a way to get the word out like your homeschool or church email loop or newsletter.
We just ask that we are allowed to sell our book and CDs and that you take up an offering. We also ask if you can put us up in a hotel room or if someone can host us overnight (the children all bring sleeping bags). That's it. See, easy!
What can you speak on?
To download our speaker kit with a listing of the workshops we are doing this year, head over to our main speaking page! We speak on raising sons, marriage, parenting, family life, homeschooling, educational politics, economics and more. Tell us what you need!
Here's where we'll be passing through in the next few months – if you're nearby and you'd like to have us, use the contact form at the very bottom of this page or email us at info at raisingrealmen dot com! We're looking forward to meeting you!  
February 2014
March 2014
NC, VA, WV, KY, IN, IL, MS, KS, TN  See our Events Page to see what dates are already taken!
April 2014
SC, GA, TN
May 2014
NC, SC, GA, FL, AL
June 2014
MD, DE, NJ, PA, NY, CT, MA, RI, GA, AL, MS, LA
The red dots are the conferences we're headed to, if you're in any of the colored states, let us know and we'll see if we can stop!
If you're area isn't listed, stay tuned… we may be coming through soon!