Raising Real Men's Resource Guide for Dealing with Spiritual Doubts
Apologetics is the outworking of what we're commanded to do: always be ready to give a defense to everyone who asks you a reason for the hope that is in you.
Don't panic when your children have spiritual doubts. Instead, give them some great books that answer the hard questions like: Who is Jesus? How do we know God exists? Did Jesus really die and come back to life? Does the story of Adam make sense? What about the flood? Here are the books we use to give our guys answers.
Then talk. Hear what they have to say. Share the gospel. Use the Bible. For the word of God is living and powerful, and sharper than any two-edged sword, piercing even to the division of soul and spirit. And pray. May your children enter adulthood walking with Christ. There's no greater joy.
Hal & Melanie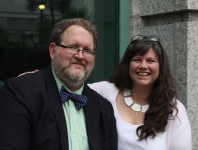 Affiliate links coming! We earn a small commission from these.
| | |
| --- | --- |
| More Than a Carpenter is an easy to read book that answers the question, "Could Jesus have been just one of many great teachers?" | |
| Mere Christianity is more challenging. It answers the questions, "How do we know God exists?" and "What can we be sure about His nature?" C.S. Lewis came to the Lord kicking and screaming. His struggles to understand and believe are turned to helping others in this classic. | |
| Did Adam Have a Belly Button? is a fun read that answers those seemingly hard questions kids throw at each other to dry to debunk Genesis. | |
| Lee Strobel's The Case for Christ was a help to several of our sons when they were struggling. | |
| Evidence That Demands a Verdict was a huge help to us in college (yes, that was a long time ago, but some things retain their goodness!). | |
| Evolution is a sticking point for many teens, but it doesn't need to be. The evidence for Creation is robust and believable. Help them look into it with Evolution:The Lie. | |
| The Genesis Flood is the classic answer to the question, "Could there have really been a worldwide flood?" | |
These are affiliate links and we earn a small commission when you use them. Thank you!