Description
Creation Science Novels
We just love to find resources that teach our children while they think they're just having fun! When we read these books written by homeschool mom and daughter team, Felice and Christina Gerwitz, we knew we'd found just that!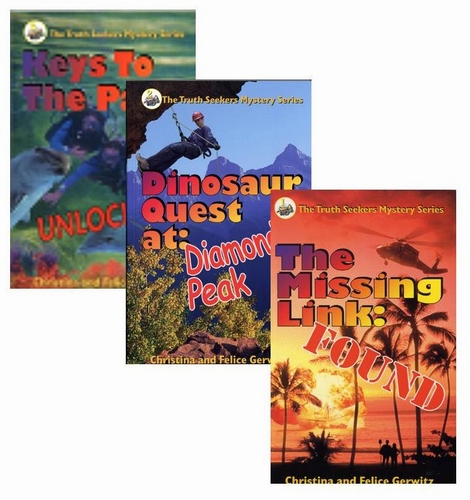 The very idea intrigued us – adventure novels meant to teach Creation science. So, we read. Melanie read very carefully. Her degree is in the hard sciences and she's tough to please. She was pleased.
Folks, these are simply outstanding. They are full of adventure and excitement – scuba diving, mountain-climbing, bad guys and adventure. They are just a sitting on the edge of your seat, page-turning blast! And they'll teach your children a boatload of real science – accurate science!Now, that's a win for everybody!
What ages? Well, the hero and heroine are teens and they do face dangerous circumstances. Everyone in our family from about 8 on up greatly enjoyed them. In fact, they argued over them!
Note: Don't be alarmed by the title (The Missing Link Found) – that's what the Murphys are told, but they find out differently!
Once again, the Murphy teens are propelled into another exciting adventure! While on vacation in the Keys, a devious plot unfolds, and the Murphys find themselves in the middle of a full-speed boat case and encounter with the FBI. Their vacation plans are then cut short by the arrival of a cryptic message form Dr. Murphy's brother, requesting his immediate presence at an anthropological dig along the Peace River. What Dr. Murphy, Christian, and Anna find there is anything but peaceful!
Encountering a deadly illness, the Murphys must also wrestle with a startling discovery and its potential results. The Missing Link has been discovered, finally providing evidence for the theory of evolution. But, what about the Bible? Didn't God create the world as recorded in Genesis? In addition, is there a connection between their adventure on the high seas and their discoveries a the dig site? Join the Murphys as they are faced with danger and a race against time in search for the truth.
In the Truth Seekers Mystery Series, you'll experience adventure, mystery, heart stopping suspense, and faith played out first-hand by the Murphy family. This action adventure mystery will keep you guessing to the very end!