Description
Creation Science Novels Study Guide
We just love to find resources that teach our children while they think they're just having fun! When we read the Truthseekers novels written by homeschool mom and daughter team, Felice and Christina Gerwitz, we knew we'd found just that!
It's hard enough to keep our with our children's reading. It's even harder to think clearly enough in the hustle and noise of our house to ask intelligent questions to make sure our children are comprehending what they read.
That's pretty important when we hope they are learning from their reading, too. Felice and Christina make it easy for you.
Get the Study Guides for The Truthseekers Seriesand the questions are provided for you – complete with answers. These great little books also have ideas to help you take the learning further. What a blessing!
Get The Truth Seekers Mystery Series Study Guides!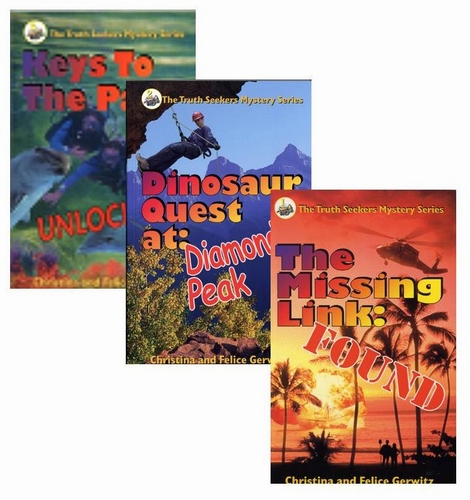 The very idea intrigued us – adventure novels meant to teach Creation science. So, we read. Melanie read very carefully. Her degree is in the hard sciences and she's tough to please. She was pleased.
Folks, these are simply outstanding. They are full of adventure and excitement – scuba diving, mountain-climbing, bad guys and adventure. They are just a sitting on the edge of your seat, page-turning blast! And they'll teach your children a boatload of real science – accurate science!Now, that's a win for everybody!
What ages? Well, the hero and heroine are teens and they do face dangerous circumstances. Everyone in our family from about 8 on up greatly enjoyed them. In fact, they argued over them!