Description
All of our kids have learned to cook. Everyone takes a turn each week as Chef of the Day and is responsible for all three meals that day. They actually LOVE that because we let them decide (with approval and within reason) what to make. That way they're sure to be able to have their favorites.
By the time they're teens, they're ready to learn the finer points of kitchen skills. We've seen young teens and preteens prepare Portabella Mushroom Quiche and Cranberry-filled Braided Bread from scratch. It's amazing what teens can do!
It's also amazing how that has impacted their lives as adults. When he was in college, one of our sons turned cooking for friends on Friday nights into a ministry that gave kids an alternative to the drinking parties on campus. Another has catered events as a side business.
Your guys can do this, too! It's good for them and will reduce your stress — bonus!
The Chef Kit includes:
Sixteen Instruction and our own Recipe Cards, to inspire your new Chef!
Black Chef's Apron, with adjustable neck tie, waist ties, and pockets.
Wooden Recipe Box, unfinished, holding 4×6″ cards, for their own collection.
Recipe Cards, blank, 40.
Matching Memo Pad, for shopping list (if ours want to make something special they have to turn in a shopping list).
Recipe Card Holder, unfinished wood, to hold recipe card while cooking.
Timer, because forgetting stuff and burning it is a huge problem at first.
Cookie Turner, wood and metal.
Measuring Spoons, metal.
Dough Scraper, metal, with inch measurements.
Bonus: Includes Silicone Spatula and Poly Cutting Board, as well as our ebook, Kids Cook Dinner, that takes the Chef Crate to the next level!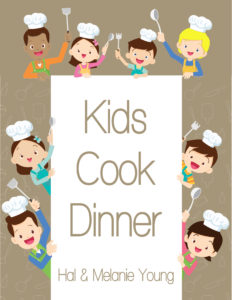 Recommended for age 12 and up or for use with parental supervision only.