Description
Historical Fiction Audiobooks by G.A. Henty!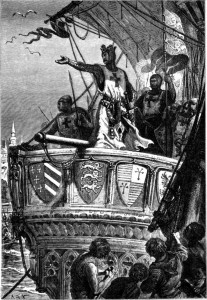 When people ask us for recommendations for good books for boys, our first thought is usually G.A. Henty. Why? His heroes are fantastic role models of the manly virtues, yet likeable and adventurous and every bit of the history you learn is real. Henty was an Army officer, war correspondent, a historian who began telling these stories to his own children. He was known for writing with stacks of primary source documents surrounding him and you'll be hard pressed to find a historical error of any kind. And they are just plain fun!
Written in the late 1900s, the language can be a bit challenging for some boys (but it's so good for them), so we recommend audiobooks! Our friend Jim Hodges does a wonderful unabridged version (you don't want to miss a word!) and we are delighted to sell them!
This is the text of 101 and Henty's books and stories so that you can follow along with the text if you like. It is plain text files that can be opened by pretty much any word processing software (like Word).
These are the books the Young boys grew up on — enjoy!
~Hal & Melanie Young
Tales of History & Adventure
| | |
| --- | --- |
| TRACK | TITLE |
| 1. | A Biography of Henty – The Story of an Active Live |
| 2. | A Chapter of Adventures |
| 3. | A Final Reckoning |
| 4. | A Girl of the Commune |
| 5. | A Jacobite Exile |
| 6. | A Knight of the White Cross |
| 7. | A March on London |
| 8. | A Roving Commission |
| 9. | A Search for a Secret – A Novel in Three Volumes |
| 10. | A Soldier's Daughter and Other Stories |
| 11. | At Aboukir and Acre |
| 12. | At Agincourt |
| 13. | At the Point of the Bayonet |
| 14. | Bears and Dacoites |
| 15. | Beric the Briton |
| 16. | Bonnie Prince Charlie |
| 17. | Both Sides of the Border |
| 18. | By Conduct and Courage |
| 19. | By England's Aid |
| 20. | By Pike and Dike |
| 21. | By Right of Conquest |
| 22. | By Sheer Pluck |
| 23. | Captain Bayley's Heir |
| 24. | Colonel Thorndyke's Secret |
| 25. | Condemned as a Nihilist |
| 26. | Do Your Duty |
| 27. | Dorothy's Double |
| 28. | Facing Death |
| 29. | For Name and Fame |
| 30. | For the Temple |
| 31. | Friends though Divided |
| 32. | Gallant Deeds – The Golden Canyon |
| 33. | Held Fast for England |
| 34. | In Freedom's Cause |
| 35. | In Greek Waters |
| 36. | In the Hands of the Cave Dwellers |
| 37. | In the Hands of the Maylays |
| 38. | In the Heart of the Rockies |
| 39. | In the Irish Brigade |
| 40. | In the Reign of Terror |
| 41. | In Times of Peril |
| 42. | Jack Archer |
| 43. | Maori and Settler |
| 44. | No Surrender |
| 45. | On the Irrawaddy |
| 46. | One of the 28th |
| 47. | Orange and Green |
| 48. | Out on the Pampas |
| 49. | Out with Garibaldi |
| 50. | Redskins and Cowboys |
| 51. | Rujub the Juggler |
| 52. | Saint Bartholomew's Eve |
| 53. | Saint George for England |
| 54. | Sturdy and Strong |
| 55. | Surly Joe |
| 56. | Tales from the Works of G. A. Henty |
| 57. | Tales of Daring and Danger |
| 58. | The Bravest of the Brave |
| 59. | The Cat of Bubastes |
| 60. | The Corner of Horse |
| 61. | The Curse of Carne's Hold |
| 62. | The Dash for Khartoum |
| 63. | The Dragon and the Raven |
| 64. | The Lion of Saint Mark |
| 65. | The Lion of the North |
| 66. | The Lost Heir |
| 67. | The March to Coomassie |
| 68. | The March to Magdala |
| 69. | The Plague Ship |
| 70. | The Queen's Cup |
| 71. | The Tiger of Mysore |
| 72. | The Treasure of the Incas |
| 73. | The Young Buglers |
| 74. | The Young Carthaginian |
| 75. | The Young Colonists |
| 76. | The Young Franc-Tireurs |
| 77. | Thos Other Animals |
| 78. | Through Russian Snows |
| 79. | Through the Fray |
| 80. | Through the Sikh War |
| 81. | Through Three Campaigns |
| 82. | To Heart and Cabul |
| 83. | True to the Old Flag |
| 84. | Under Drake's Flag |
| 85. | Under Wellington's Command |
| 86. | When London Burned |
| 87. | White Faced Dick |
| 88. | Winning His Spurs |
| 89. | With Buller in Natal |
| 90. | With Clive in India |
| 91. | With Cochrane the Dauntless |
| 92. | With Frederick the Great |
| 93. | With Kitchener in the Soudan |
| 94. | With Lee in Virginia |
| 95. | With Moore at Corunna |
| 96. | With Roberts to Pretoria |
| 97. | With the Allies to Peking |
| 98. | With the British Legion |
| 99. | With Wolfe in Canada |
| 100. | Won by the Sword |
| 101. | Wulf the Saxon |
| 102. | Yule Logs – On a Mexican Ranch |
| | |