Introduction to Political Thinking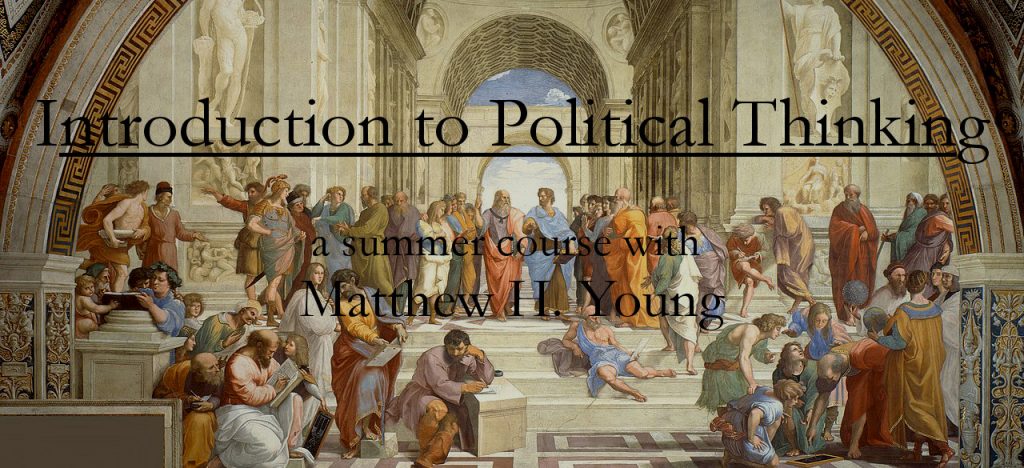 Are you or your child interested in learning about justice, society, politics, and the ideas that shaped Western civilization? If so, now is your chance!
We're excited to announce that this summer, you can learn about these ideas from a talented teacher and educator–Matthew H. Young. This class–which will count as 1 semester of social science, philosophy, or Great Books credit–will meet online twice weekly for an eight week summer term. Your student will encounter some of the great political texts of the Western tradition, including the Republic of Plato, Augustine's City of God, and John Locke's Two Treatises on Government. Throughout, students will learn how to think critically about politics from a distinctively Christian worldview, from a homeschool graduate who lives and works as a Christian within academia. Your student will also have the opportunity to learn about typical course structure, norms, and grading as a step to preparing for higher education. You may find a syllabus below!
Matthew (Hal and Melanie's third son) is a Ph.D. student in Political Theory at the University of North Carolina at Chapel Hill, and an award-winning educator and researcher with strong interests in Christianity and the Western intellectual tradition.
Class Calendar: Classes will take place every Tuesday and Thursday, from 1PM EDT to 2:30PM EDT, beginning May 22 and continuing to July 12.
Normal list price is $220 per student (with discounts for multiple students in one family). For a limited time only, you may register for the low rate of $160! 
Student Testimonials 
" [Matthew] is a man of many words, a walking encyclopedia in fact, who works hard in helping his students understand concepts that seem foreign. My experience in the Political Science department at Berea College would not have been the same without the influence and guidance of Matthew Young." – Osvaldo F.
"Matt is kind, thoughtful, analytical, and knowledgeable about a wide range of subjects in and outside the various fields of Political Science. He excels in the classroom…and is overall a natural educator." -Seth L.
Introduction to Political Thinking
Course Guide and Syllabus
Matthew H. Young, instructor
Graduate student in Political Theory and American Politics
Department of Political Science
The University of North Carolina at Chapel Hill
Graduate Fellow, Parr Center for Ethics.
Overview:
This course will comprise a brief—but thorough—introduction to the methods, means, and substance of political thinking in the Western tradition. Students will learn about classic perspectives on humanity, politics, and society by reading and engaging with key texts and thinkers from the Greco-Roman and Judeo-Christian traditions.
Credit and Schedule:
This class will meet online for 90 minutes twice a week, over an 8-week summer "term". The instructional content and assignments will be the equivalent of one (1) semester credit at the collegiate level, or one-half (1/2) of a high school credit in philosophy, political science, great books, or social studies.
Objectives:
In addition to encountering and analyzing the foundational texts of Western political theory from a distinctly Christian perspective, students will have the opportunity to practice and hone their rhetorical skills through discussions and written assignments. Lastly, the students will be exposed to traditional seminar-style college instruction, and have the opportunity to learn how to relate to—and communicate effectively with—professors in an advanced environment.
Course Requirements and Grading:
Reading: We will be reading and discussing a number of difficult and complicated texts. Students should be prepared to read and write at an advanced high school level. Expect to spend at least 5-10 hours per week outside of class reading and working on written assignments. Please complete all reading assignments before class. I reserve the right to assign reading quizzes, should it become evident that students are not completing the readings.
Response Essays (30%): Students will complete three three-page (double-spaced, about 1000 words) "response" essays over the course of the semester. These will critically respond to and discuss the key contentions or ideas from one or more of the readings assigned for a class period. The readings and dates chosen may be chosen by the student.
Philosophical Term Essay (50%):  In the first week of class, students will work with me to select one question (ex., Should government officials be permitted to lie to the public?  or Should the government outlaw the consumption of alcohol?). Each student will, over the course of the semester, complete a ten-paged (double-spaced, approximately 3000 words) essay arguing for their position on the issue. A partial draft will be due by the end of the fourth week of class, and then students will revise their essay over the remainder of the semester. You are welcome to discuss (and argue) your position with other students, myself, your parents, your friends, or anyone else you'd like. However, you are not allowed to cite or refer to outside sources in your paper—this is an exercise in developing your own critical thinking and analysis, not your ability to tell me what others have said!
Participation (20%): As is the case in most college-level classes, participation is mandatory. There will be opportunities to ask questions and discuss the readings in class, as well as to participate in online discussion in a forum with your classmates. Your participation will be graded both on its quantity and its quality. You may also earn participation points by speaking with me in my "virtual office hours", asking questions of me via email, or by sharing resources with your classmates (with my approval).
*** A note on grading: Students will receive two final grades for this class, as well as for each of the main written assignments. The first grade will be the grade earned when considered at a high school level, the second will be the grade they would have earned when considered as a college class. Which grade is formally recorded is up to the discretion of the parents, however the two grades may help the student (and parents) gauge progress and preparedness for college-level academic work.
Technical Requirements:
Facebook access: out of class participation and discussion will be recorded through participation in a private Facebook group comprised of classmates, and administrated by myself. You must have a personal Facebook account in order to utilize this feature.
Computer/Internet: You must have a working high-speed internet connection, as well as a working computer or laptop on which you can view class sessions. However, I recommend that you take notes by hand, as studies show that students better process and retain information in analog form.
Microphone/Webcam: You are not required to have a webcam or microphone (you can also participate and ask questions in class via text).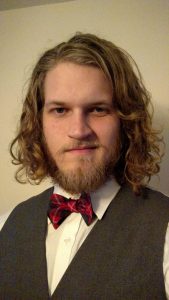 About the Instructor:
I am a doctoral student in political theory and American politics at the University of North Carolina at Chapel Hill. I was home-educated  throughout my primary and secondary education. I graduated summa cum laude from Berea College with a double major in Political Science and Economics and a minor in philosophy. My research focuses on the complicated interplay between religion and politics, particularly with regards to legal theory and conservative political thought and theology. Upon completing my doctorate, I hope to teach political philosophy at the collegiate level. I have amassed over three years of teaching experience, and have won several teaching awards. Further details of my academic experience may be found on my C.V.
I live in Chapel Hill, North Carolina with my wife Camille, where we are members in good standing of Christ Community Church (PCA). In my spare time, I enjoy hiking, playing tennis, lifting weights, and playing music.
List of Readings:
Glenn Tinder, Political Thinking: The Perennial Questions (selections)
Amos, The Holy Bible
Mark, The Holy Bible
Romans, The Holy Bible
Plato, Republic
Plato, Apology, Crito.
Aristotle, Politics, Nicomachean Ethics (selections)
Augustine, City of God (selections)
Machiavelli, The Prince
Hobbes, Leviathan (selections)
Locke, Two Treatises on Government, Letter Concerning Toleration.

Required Texts:
Plato, The Trial and Death of Socrates. Trans. G.M.A. Grube preferred.
Plato, Republic. Trans. Allan Bloom preferred
John Locke, Two Treatises on Government
All other texts will be provided online.
Course Schedule:
Loosely, the course will be divided into four main units. The first, Israel and Revelation will feature a discussion of the nature of justice, law, and society through the lens of Scripture. The second, The World of the Polis will begin to flesh out the idea of a "political community"—that is, the foundations of politics as a special basis for civil society—through a close reading of Plato's Republic and other Classical texts. The third, History, Sacred and Profane, will reprise themes from the first and second units by analyzing Augustine's Civitate Dei (City of God) and discussing the relationship between private morality and public institutions. The final unit, Contracts, Compacts, and Covenants will cover the attempts of Machiavelli, Hobbes, and Locke to reconcile and harmonize the spheres of private morality and public institutions. Throughout these units we will learn a great deal about the methods and means of political theory, as well as the substantive ideas that have influenced the Western political tradition.
Nota bene. This course is neither endorsed nor promoted by the University of North Carolina at Chapel Hill, nor the Political Science department. My status as a graduate student should serve as an indicator of my full competence in the fields I teach, not as any sign of institutional approval of, or interference in, the content and presentation of this course.