My Beloved and My Friend Valentine's Day Official Release
by Hal and Melanie Young | February 14th, 2014
We are utterly delighted to announce the official release of our newest book, My Beloved and My Friend: How To Be Married To Your Best Friend Without Changing Spouses!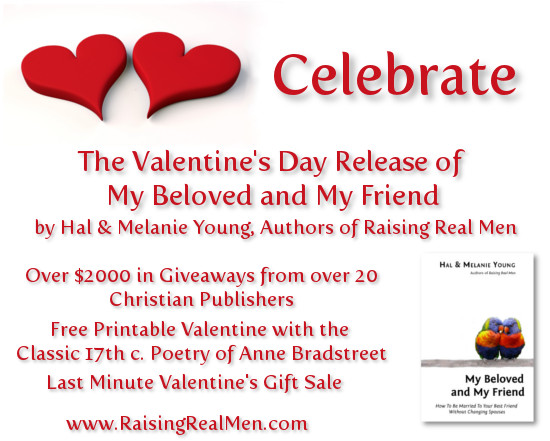 When Hal was diagnosed with stage four cancer a few years ago, we were relieved that we'd written Raising Real Men. Even if the Lord took him home, our boys would have a record of what their dad (and mom) thought it took to make a man. We turned to each other and asked, "Well, what else would we want to leave behind for our sons and daughters?" We immediately realized we'd want them to know how to be happily married, how to build a God-honoring, strong, joyful marriage. It's taken us four years, but here it is!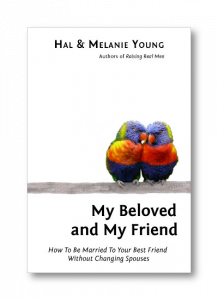 "Hal & Melanie Young have written another fabulous and much-needed book, My Beloved and My Friend: How to Stay Married to Your Best Friend Without Changing Spouses.  Brilliant book.  Of course it is; I knew it would be.  They are the folks behind Great Waters Press, the ones who wrote Raising Real Men. I loved that book, and I knew I'd get a lot from this one too." -Debra Brinkman at Footprints in the Butter:
"Hal and Melanie have a way of writing that makes you feel as though you are sitting down and having a conversation with them. What they write is solid. What they write is Biblical. What they write actually works and is doable…" -Phyllis Sather, author of Purposeful Planning at her blog

"Over the years I have read quite a few "marriage" books, but this one stood out to me above the rest. I think it was because Hal and Melanie address some issues that married couples face that I don't remember being dealt with in the other books." -Sheri at Sheri Graham
To Celebrate, We Are Having a Weekend Sale!
Need a last minute gift? Order and download a gift certificate to give your mate tonight!
My Beloved and My Friend Book SIGNED $15 $12.50  (eBook $10  $7.50)
My Beloved and My Friend Audiobook $25 $22.50  (Audio Download $20  $17.50)
His & Hers Special: Book + Audiobook $35 $30  (eBook + Audiobook $25  $20)
Want to really show your love? Sign up for our Marriage Retreat Online! Four weekly man-friendly meetings to focus on you two. The only Marriage Retreat you don't need a sitter for! Find out more.
This weekend only, sign up for the next Marriage Retreat Online, starting April 25th, for only $25!
We have a gift for you, too!
A Valentine's Day Card Printable with the Classic Love Poetry of Anne Bradstreet and the Song of Solomon!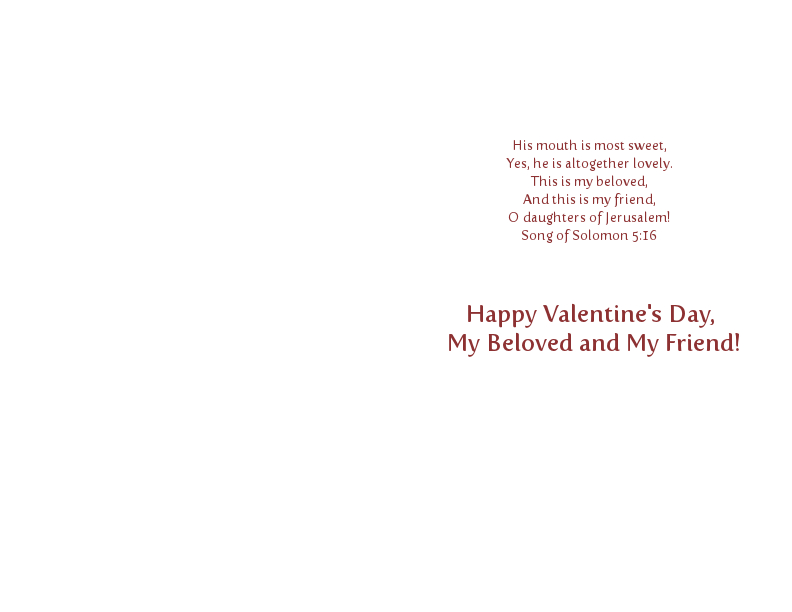 Download the pdf optimized for letter size paper.
My Dear and Loving Husband Valentine Outside
My Dear and Loving Husband Valentine Inside
My Dear and Loving Husband Complete Card in One File
We'd love for you to rejoice with us!
We have five huge giveaways in celebration. Click on these and enter them before Monday night, friends:
 

The $495 Ultimate Classical Homeschooling Giveaway

The $605 Ultimate Young Learners Giveaway

 

The $490 Ultimate Middle Grades Homeschooling Giveaway

The $143 Ultimate Homeschooling Mommy Giveaway

The Ultimate Win a Random Homeschool Prize Giveaway

Win a $100 Timberdoodle Gift Certificate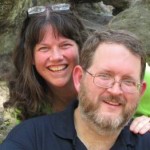 May your Valentine's Day be happy indeed!
Hal & Melanie