The Great Western Tour
by Hal | January 21st, 2013
Thirty Days – Twenty States – 6300 Miles -  and Four Conventions!
It's our 2013 Great Western Tour!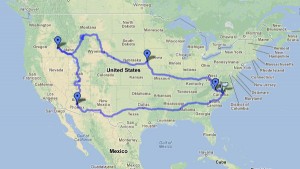 May 23-25 – Winston-Salem, N.C.
North Carolinians for Home Education (NCHE) Conference and Book Fair
May 30-June 1 – Omaha, Neb.
Teach Them Diligently Convention
June 7-8 – Nampa, Id.
Christian Homeschool Organization of Idaho State (CHOIS) Convention
June 14-15 – Phoenix, Ariz.
Arizona Families for Home Education (AFHE) Convention
This map only shows our confirmed speaking events, but there are more to come!
If you're along our route, would you like for us to stop and speak at your church, support group, or some other gathering?
It's easier than you think, and it can be more economical than you might expect.
Email us at speaking@RaisingRealMen.com and we'll send you more information about setting up an event in your area